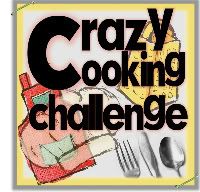 I'm participating in the Crazy Cooking Challenge: Cheesecake!
Every month, a different challenge will be given. Last months challenge was making Fried Chicken. It is always amazing to see how many different ways there are to make something!
For this month's challenge I wanted something that was super easy to make! I used the base from a friends cheesecake recipe and changed up the crust! It turned out delicious!
Oreo Cheesecake
Here is what you need:
2 packages Cream Cheese, softened
1 can Sweetened Condensed Milk
3 Eggs
1/4 cup Lemon Juice
Oreo Cookies
For the crust:
Place whole cookies on bottom of spring form pan.
Crumble and break up some cookies to fill in the gaps between the whole cookies.
For the cheesecake:
In a mixing bowl, beat cream cheese until fluffy, add condensed milk and blend well.
Add one egg at a time, beating well after each one.
Next add lemon juice, mix and then pour on top of Oreo crust in a spring form pan.
Bake at 350 degrees for 45 – 55 minutes.
Once the cheesecake has cooled, top with crumbled Oreo cookies and Enjoy!
You can check out all of the other great cheesecake recipes below!
Have a great day!